Spinach Wraps
Health Food Imposter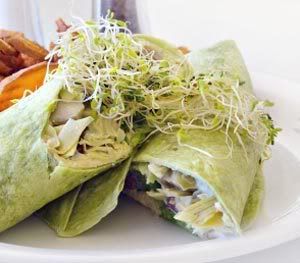 It looks green and good for you, but spinach powder is a scant ingredient. These wraps are typically made from refined white flour, and the green hue primarily comes from food colorings (Blue No. 1 and Yellow No. 5.). Not only does this not count as a veggie serving, you won't find the same immune-boosting vitamins A and C found in fresh spinach.
Smarter Sub: 100% whole grain breads
Choose whole grain wraps, pitas, English muffins, or bread. Look for 100% whole grain on the label.
Health Bonus: Reduced risk of disease
Research shows whole grains are linked to a reduced risk of nearly everything you're trying to prevent: heart disease, type 2 diabetes, cancer, and high blood pressure.
http://www.preventio...rs/list/10.html