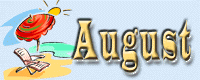 There is no one sitting in the beach chair because it is either too hot, or there is not enough water.
It's August already. We've been through Christmas in July sales, and we are already in back to school sales mode. The colts at the horse farm down the road are all growing like weeds, local fairs have begun, and the harvesting has started. Lupines and lilies have gone by, and the sunflowers and daisies are everywhere. All sure signs that August is here. My July calendar had a nice picture of an apple harvest, but I couldn't figure that out. They must harvest apples in June somewhere??? I liked the July picture. It came out of Walton's Mountain, for sure. It was a very nice picture of a grandfather fishing with his young grandson. August has a nice picture of tractors??, and I'm thinking I am going back to my Norman Rockwell calendars next
time.
We haven't had scorching heat here, we have just had a lot of humidity. One or two days a week you can breathe easily, and the rest are a toss up. I really don't like having to keep the windows closed so much, but I'm grateful for the ac. The grandchildren continue to make use of the pool every day, but I know it won't be too long before they are back in school and they will be busy.
A farm market opened up across the street, so it has been a nice convenience for me to stop by on my way home. We have had a lot of berries and salads this summer, and we had beet greens just the other night. I haven't had fresh tomatoes yet, but I can't wait.
We had a beautiful, fairly large moose stop in the middle of the road and pose for us last weekend. I had my camera, but by the time I got it out, the sound of a car coming the other way scared him off into the woods. Now I not only take my camera with me, I have it out and ready.
Rocky had a bad time with a bacterial infection last week, but he is on antibiotics now, and doing much better. He is taking 2000mg. a day for ten days, and I hope it clears completely out of his system. He told me he didn't realize how bad he felt until he started feeling better again. I have had miserable breathing for the last few weeks, but yesterday and today I'm feeling energetic and breathing much easier. Go figure.
Mom continues to do VERY well at BINGO, but her winning streak was broken with a trip to the casino yesterday. She went with a few of her friends, and she lost $50.00, so she is not too happy about that. I would be surprised if anyone saw her in a casino the rest of the summer now.
Glad to hear that most of you are doing pretty well. Tim, I'm very happy that you seem to be out of the woods. I hope Dew is doing well too. Claire, I hope you will be free of that cumbersome boot pretty soon. You must have forgotten by now what's it's like to not have it on.
We are leaving Friday for a week on the Maine coast. This will be our first full week off in years, and we're pretty excited about it.
Hopefully a trip to Boston next month, and that will probably do it for this summer. Ken let me know when you are planing on being in Boston, and we'll see if we can get together.
Peg, I know you have been very busy, but I have to say that it seems to agree with you. Every time I hear from you, you always seem to be feeling pretty good about yourself for all you are accomplishing. You go girl.
Darrell, I'm pleased that you finally have been able to taper down the prednisone, You seem to be doing much better, and I hope you continue to do well. It must be all those fresh vegetables you have been eating.
Take care everyone. I'm wishing you all feel good days, and lots of easy breathing.
Dee